San Franklin Drops Blessings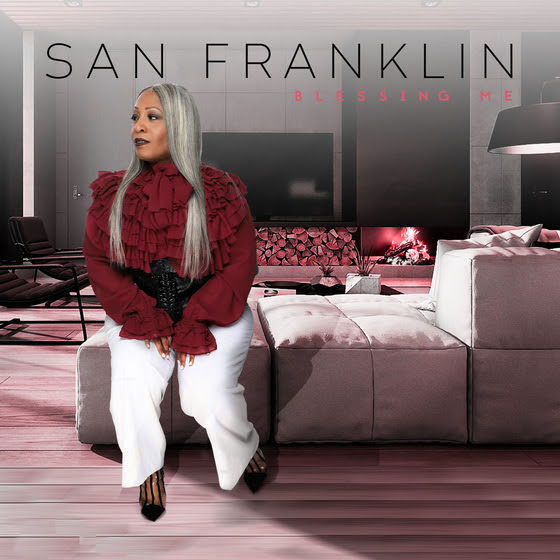 Grisanthia Franklin, "San" as she is affectionately called, hails from the Oakland-San Francisco Bay Area by way of Chicago, Illinois. Now making Nashville her home, San Franklin is in a focused season in her life, poised for greater works with incredible outcomes. Being noted as one of Gospel and Christian music's most commanding vocalists and professional session singers, San Franklin is strategically stretching her artistry and ministry beyond any boarders that man can establish.

Her brilliant background vocal arrangements and production, and solo vocals are heard on several Grammy®, Stellar and Dove award-winning recordings. She has worked with and traveled nationally and internationally with some of the biggest names in music including Heather Headley, Bishop Paul Morton, Martina McBride, Beverly Crawford, The Newsboys, Yolanda Adams, The Clark Sisters, Aretha Franklin, Alvin Slaughter, Donnie McClurkin, Casting Crowns, Lisa Knowles-Smith, Jill Scott, CeCe Winans, Raphael Saadiq, Indian mega-producer Pritam, Christina Aguilera and many more. San positions herself with her own music now for eager fans and for a world that will gravitate to her voice and be changed by the God in her.

Earlier this year, San hosted her first live recording in Nashville, TN. The outcome of a dynamic, worshipful night has yielded her new single "Blessing Me". With guest vocalist Chrystal Rucker, San dishes out a churchy, robust song, capturing the essence of her talent and depth of her anointing.
Blessing Me" is now available on all digital music outlets. The EP/Single is an eleven-minute live musical experience that only San can deliver dynamically while keeping listeners engaged in praise! "Blessing Me" is the first single from her forthcoming album THE FREE PROJECT. San tapped the most gifted and innovative musicians and producers John "Matt" Clark, Jr, Forrest Walker and Lance Lucas to work with her on THE FREE PROJECT that will release in 2020.

San candidly shares about THE FREE PROJECT and the live recording experience:
"I have always said that if/when I ever recorded a full album, it would have to be a studio project because of my prior vocal chord paralysis and challenges that left me with a fear of recording live. I'm a perfectionist and always want to offer my best however after literally singing my way through this last season of change, being encouraged by my Music/Business partner John Clark and Fred Jerkins to do it live, I felt that there was something that I had to convey to a room full of believers who had suffered and gained the same victories as myself. To walk out and witness a packed house of supporters who in some way had been impacted by my life, the times I fell and the times I got back up, was the best dose of courage one could gain. All of the right pieces were in place!"

In addition to her thriving music career, San founded and pastors Kingdom Love Worship Center (KLWC) in Nashville. From its inception in 2014, the vision of KLWC has been made manifest in the lives of God's people as the place where God's LOVE builds, covers and restores those that have been deemed unlovable. Her focus is on the ministry of saving souls and healing the hurts of believers who have been oppressed and bound by enemy tactics, making it hard for them to live a victorious life in Jesus Christ.
"I will keep ministering to God's people in the way He leads me to go, whether it be conventional or non-conventional until a difference is made in the lives of all God's people," says San. "People have to know that regardless of where they have come from or what they have been into, God can change their life around and make it VICTORIOUS."