Cece Winans Returns With New Music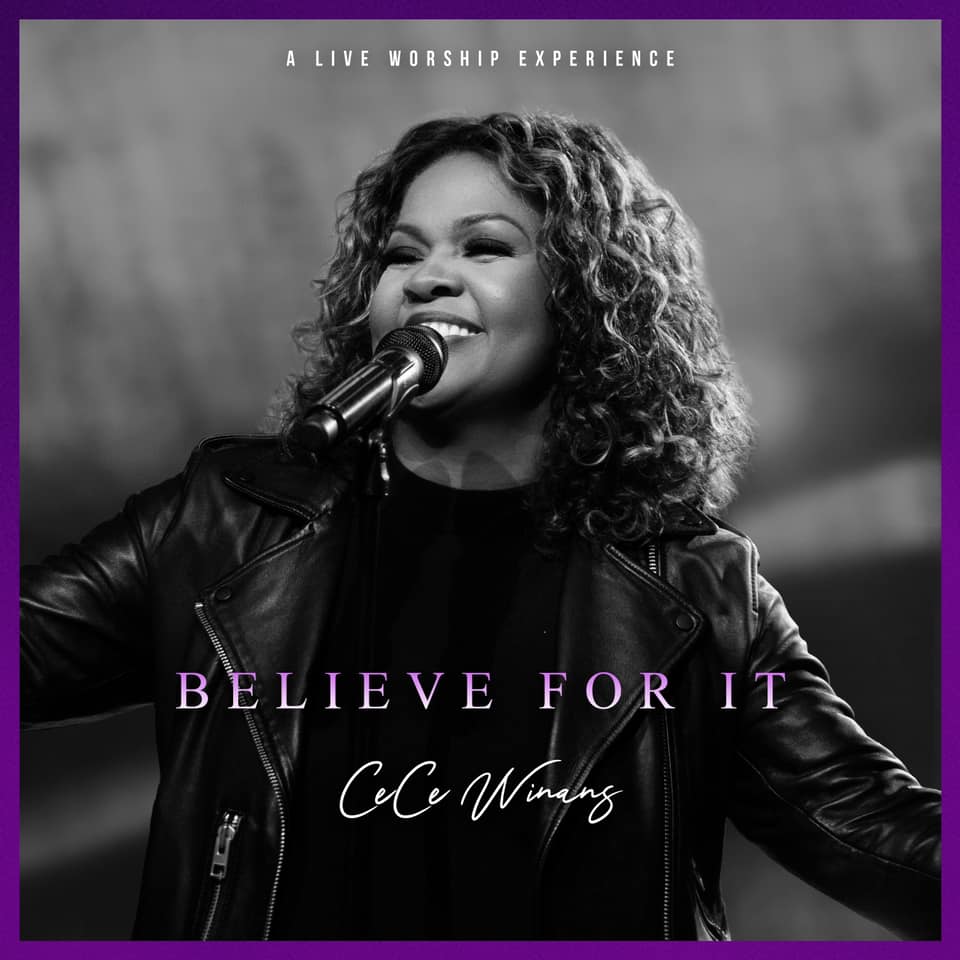 There's no stopping Gospel legend, CeCe Winans. The March 12th release of Believe For It (FairTrade Services/PureSprings Gospel) marked the first live recording for the icon and is quickly catapulting to the top of the charts. The beautifully arranged 12 track compilation appears to be exactly what the fans have been asking for and comes at a time when they need it most. The album highlights some of the biggest songs in Christian music today and was one of the most pre-added albums worldwide on Apple Music.
As if that wasn't enough, Believe For It now takes another giant leap forward by dominating the Billboard Gospel Charts with four (4) number one spots: #1 Top Gospel album, #1 Current Gospel Album, #1 Gospel Digital Song and #1 Top Christian/Gospel Album. The album is an inviting 78 minutes of worship, and Winans adds her distinctive sound and style to the contemporary hymns that has been sung in churches worldwide.
"It's exciting to see one of my songs on the charts because, to me, it means people are hearing the message. Music opens so many doors to convey a powerful message. So, when I see a song going up the charts – I visualize the thousands and thousands of people that might be impacted by the music and message of a song," says Winans.
The multiple Grammy winner kicked off street week of the album release with a media blitz of television appearances in seven major markets that included an exclusive interview with Entertainment Tonight. Winans is on a mission to not only bring awareness to the record, but to encourage people from every walk of life to believe for better days ahead and not give up during these challenging times. On Wednesday, March 31st fans can catch Winans chatting it up with Hoda Kotb and Jenna Bush Hager on NBC TODAY in the 10a.m. hour. The appearance will showcase the singer as she sings Believe For It in her first live performance for national television in support of the new album.
The award-winning trailblazer delivers two new cuts on the upcoming album, including the title track "Believe For It." Penned by the collaborative efforts of Mitch Wong, Kyle Lee, Dwan Hill and Winans, "Believe For It" recently hit #1 on the Billboard Gospel Digital Song Sales chart, is Top 50 on Spotify's Viral 50 chart, and is already picking up airplay on significant radio stations across the country. While "Believe For It" is a highly anticipated return to Christian AC radio, "Never Lost," the lead single from the worship collection also rose to #1 on the Billboard Gospel Digital Song Sales chart, hit Top 5 on Billboard's Hot Gospel Songs chart, and was recently nominated for an NAACP Image Award in the Outstanding Gospel/Christian category.
It has been four years since Winans' last (non-holiday) recording of Let Them Fall in Love that marked her return from a decade-long hiatus, but it was worth the wait. The offering of that musical smorgasbord put an additional two Grammy Awards under the singer's belt, making it an even dozen. But Believe For It is paving a new path to the top and it appears CeCe Winans has another hit record on her hands, which only means it's time to make room on the shelf for more trophies.